Have you heard that "scrappy is the new perfect"?  The phrase came up on a Jeff Walker webinar recently where he was highlighting the key insights from pandemic era product launches (Jeff Walker literally wrote the book on virtual product launches). Basically, when forced to make a pivot, waiting to get the new product perfect means you will never get it done!
I totally get that! Our business was challenged just like everyone else. Creating something new has so much uncertainty, so many new skills to learn, just so much new stuff to figure out. One of many things I needed to figure out how to script, record and upload videos. We are not perfect yet, but the only way we got where we are today is to start scrappy! We had to just start to figure out what not to do!
We tried a greenscreen background – then scrapped it.
We tried an expensive lighting system – then scrapped it.
We filmed with a Nikon D90 camera – then pivoted to an iPhone.
Our first choice for a wireless mic was replaced with a new one.
The first video file uploads had multiple stops over 24 hours to get to the right place in the cloud to be edited! – now I can do it in 10 seconds!
…and that's just to get the first video of many to a place of scrappy good but still less than perfect!
At one point, I almost thought about just getting a job at an accounting firm in order to enjoy the comfort of doing the same thing over and over every day! The only problem is that I have been my own boss so long I am certainly unemployable! LOL
To be honest, when I can experience what my clients are up against right along with them, it's good for me.
Zig Ziglar says, "Anything worth doing, is worth doing poorly until you can learn to do it well."
The best visual depiction of the uncertainty is the Design Squiggle by Damien Newman.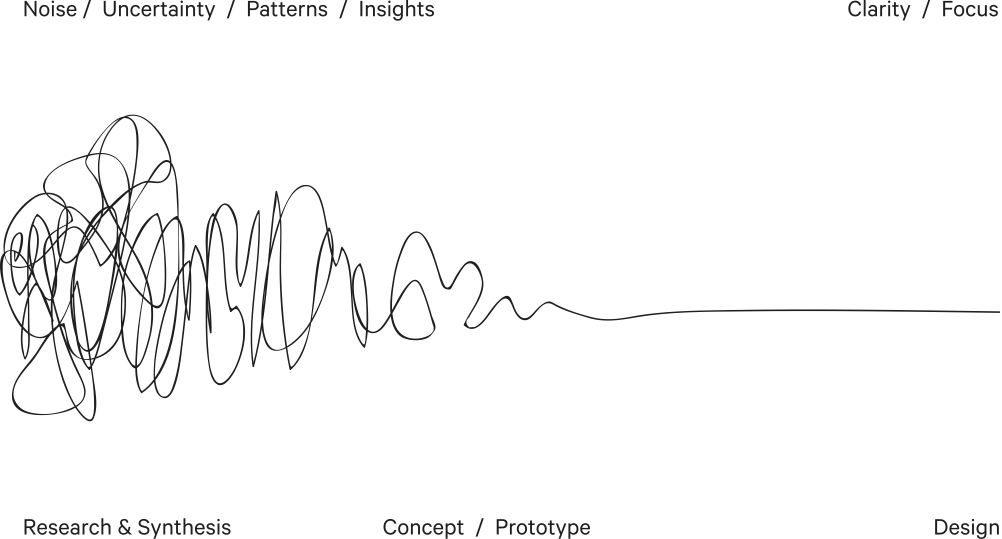 If it feels like you are standing at the left side of this squiggle, I get it!
But it is worth the effort, my team and I powered through the uncertainty and have shrunk it. We are doing it scrappy, not perfect. Just to show you, we made a scrappy little pep talk video for you.
It's about how action solves anxiety!